A workmate of mine (Rachel this is your first mention on my blog!) just passed this info on to me.

NZ's first international blog conference - March 17-18, 2006. (I'll put a link in the sidebar as well for the late comers).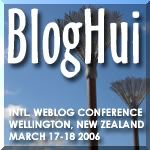 I'll be there (or at least that's the plan at the moment) and maybe I'll see you? of course I wont know what you look like... unless I already know you... best leave it there before it gets confusing.