Randy McMichael, Tight End for the Miami Dolphins, was arrested for hitting his wife. He was not charged in June last year for a similar incident. McMichael had been charged with aggravated battery on a pregnant woman, a second-degree felony that is punishable by up to 15 years in prison (but these were later dropped by the prosecutors). The similarity with Shaun Metcalf is eerie.
Is it the drugs and testosterone these guys take that makes them extremely violent? This NFL off-season has seen a large number of players arrested for assault (quite a few for assault on their wives and partners). Other player are arrested for carrying illegal firearms, a large number are caught DUI, they deal drugs, and every now and again they murder (or attempt to murder) someone. You may think I'm talking about OJ but I'm not.
I should point out that for some players crime does, in fact, end their careers. Third string safety for the Dolphins was cut after being caught drag racing and DUI. It was all the Dolphins needed to cut the guy loose.
Today, in New Zealand, two sports "celebrities" have been arrested in a drug distribution racquet. The duo has name suppression but we here at the Hammer know who they are because we are, as Russell Brown says, "Connected". Let's just say we are not surprised.
In other "what the fuck" news: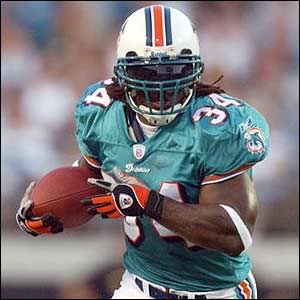 Ricky Williams is coming back to the Dolphins. He will still have to sit out four games because of his drug (marijuana) suspension though. And he will have to apologise to every one of his old team-mates after the Dolphins slumped to the second worst record in the NFL last year. But he will most likely be back as a mentor for Ronnie Brown who the Dolphins picked up at number two in the draft and then Ricky will be traded next year (or even this year, although no one is looking for RB's any more).
Dom mentioned to me the other day how he thought it was funny that male golfers (such as those who battled for the British Open) play for a purse. "Tiger is three under par and already has one hand on that purse". Heeheehee.
Here's a nice NFL story; idiot's such as Randy McMichael take note. NFL player agent Drew Rosenhaus performed CPR to save a young boy pulled unconscious from a swimming pool at a Disney World resort hotel. He dropped his phone and ran straight over. He later said "it was nice to be a good guy for once". Good on ya Drew.
This was going to be longer but I actually have "paying work" to do (which is also the reason for my absence sorry loyal readers).
PS. Please take a gander at the new link on the sidebar. It's Tom's Urban Wellington Blog. It is VERY urban too.