If you weren't sure that I was correct in asserting that New Zealand rugby is in the hands of idiots, then this surely will make you believe.

The Wellington Hurricanes have a Super 14 home game against the Auckland Blues on February 16. This also happens to be at the same time as the New Zealand day/night one-day cricket international against Australia. Well that's no problem; fans can just choose which sport they like more, right?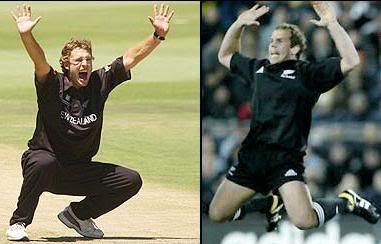 Well, both games are scheduled to be played at Wellington's Westpac Stadium.

(pause)

How about Wellington play Auckland the next night? This is what Wellington wants to do, except this leaves Sky TV without Friday night rugby. All the other Super 14 games are held in South Africa or Australia that weekend, so no changing another team's schedule either.

Of course all the Hurricanes have to do is play in Palmerston North or New Plymouth. I am actually against travelling home teams (teams with more than one home stadium). Teams need a solid base for home game advantage to really be effective. But in this case, someone screwed up and it seems only fair that the Hurricanes drive a few hours up the road and play in Palmy or the Naki.

Personally, cricket bores the hell out of me but they do not have an alternate venue, the Hurricanes do. Also it is an international cricket match against a bubble-gum rugby match (albeit a possibly interesting one).

How hard is it to sort out a 14 team competition? Why do New Zealanders NEED a Friday night game? The Aussies don't seem to mind watching the cricket, though probably because they are more likely to win.

Again I have to say, why do New Zealand (and SANZAR) rugby bosses believe that quantity equals quality? A few (11) years ago there would not had been a clash between rugby and cricket, because they had different seasons. Now rugby starts in February and goes until November (which means I got my per-day calculation wrong in my previous post).

The business plan for changing the Super 12 into the Super 14 seemed to consist of one line: More of the same. The plan for the Air New Zealand Cup seemed to be interesting: salary cap; expansion teams; separate pools. Then it all fell into farce when the regular season was announced: More of the same; wait until Round 2 for good rugby. The only good thing so far has been a change in Ranfurly Shield ownership and the fact the Northland has been able to win some games.

Perhaps they needed to look at increasing the QUALITY of the competition (both Super 14 and Air NZ Cup) rather than just giving us more games. More games of course mean more money, but surely that wasn't a factor in the decision? In fact it can't have been because with the current format fewer and fewer people are attending games.

The current administration (and this includes large amounts of pressure from Sky TV) want to overrule Graham Henry's plan to keep a selection of All Blacks out of the 2007 Super 14. Just to increase gate sales and TV audiences.

We are currently in a greater crisis regarding rugby than losing the 1996, 1999, and 2003 world cups.